18 ideas for cards from March 8: we do it together with the children!
Starting from kindergarten, every year we made greeting cards from March 8, which we gave to our mothers and grandmothers. Let's continue the family tradition and make beautiful postcards with the kids.
Volumetric 3D postcard
You will be surprised, but making such a postcard is not at all difficult.
Colored paper for cutting out leaves and flowers
2 sheets of A4 thick paper (one sheet should be green)
Glue (it is better to take a glue stick)
Scissors
Fold a green A4 sheet in half and make cuts of different lengths on the side of the fold.
We bend the resulting strips. Cut the edges of the sheet, giving a wavy look. Then we glue the sheet with the second A4 sheet (leaving the curved strips not glued).
Cut out leaves and flowers from colored paper. We glue them onto curved strips.
That's all! The postcard is ready!
Postcard using the outline of a child's hand
To make such a postcard, you will need:
Colored paper
Glue
Scissors
Pencil
We put the child's pen on a sheet of green paper, draw a circle with a pencil and cut out along the contour.
We cut out multi-colored flowers and a pot from colored paper. We glue all the details onto a sheet of white paper. Cut out the resulting composition (stepping back a couple of millimeters from the edge so that the white outline is visible).
Fold A4 sheet in half, glue the flower pot. The last time we cut along the contour (but only on one side).
Postcard for March 8 is ready!
Origami postcard
The materials are already familiar to us: colored paper, glue and scissors.
We take a square of colored paper and fold it, as shown in: first diagonally, and then bending the edges towards the top.
Fold a strip of green paper to form a stalk.
We glue the flowers to the stems.
We make several of these flowers, making a bouquet of them, which can be glued to a postcard or donated just like that.
Based on materials from the Krototak website
All women, without exception, will love the postcard from March 8 with a dress made using the Origami technique:
To make such a cute dress, you will need a square of scrap paper, which must be folded according to this pattern:
Greeting card with flowers
And those who love to draw will undoubtedly like this version of the postcard: drawn using prints of a child's palm.
In the master class, you can see how to make a postcard in the shape of a cup with flowers:
Postcard coloring
Another option for postcards for future artists: a postcard that only needs to be colored. Download picture templates, select the appropriate option and print it on a printer. You can paint.
Download some more options for coloring cards
Plasticine flower card
Even if the child is very small, he will gladly remember plasticine or salty dough in his fingers. As a result, you will get a cute postcard made by the hands of a kid.
The recipe for salted dough and other options for its use can be found in our article "Mukosolki"
Or you can mold a sprig of mimosa from plasticine:
Postcard for mom-needlewoman
But older children can make such postcards for March 8 with their own hands. They will be a great gift for a mother. a needlewoman. You can use everything that is in the handicraft box: buttons, lace, even a couple of bobbins with floss strings.
And finally, a few more ideas for inspiration:
50 DIY simple birthday card ideas
It happens very often. I want to make a postcard, but I don't know where to start. There is no idea that will help me make that one and only postcard for a loved one, or maybe not a person close to me.
And then I go to the Internet in search of an idea.
And in the next such search, I decided to make a selection of the simplest postcards with my own hands for you. So that you can also get infected with some idea and make a cute and original postcard with your own hands.
All these postcards are easy to make. All that is needed is accuracy and patience.
A very simple postcard, before you put an inscription on the postcard, practice on the draft, everything must be clean and tidy, then the postcard will be gorgeous.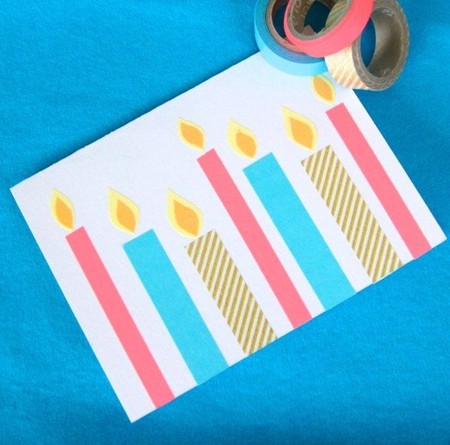 And this cute postcard is easy to make. decorative tape is the main element here.
Candles are the main decor at a birthday party, so this card is especially relevant. And the gold color makes it gorgeous.
A simple and airy card, it is suitable for a gift not only for children, but also for adults. Secure the thread with glue so that it does not dangle.
Volumetric elements make the postcard more realistic and interesting. And all you need is a voluminous double-sided tape and your balls are already flying!
I love when cards are decorated with different strings, it makes her more fun and cute.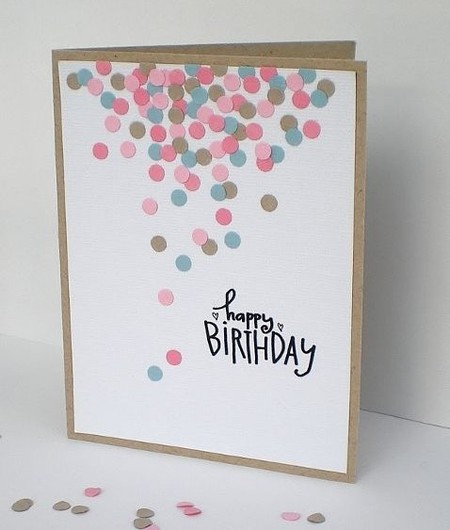 Confetti is a great decoration for your postcard. It is better to make them using a regular hole punch or a special curly hole punch. So it is faster and more beautiful.
Original card with paper candles. Simple and beautiful!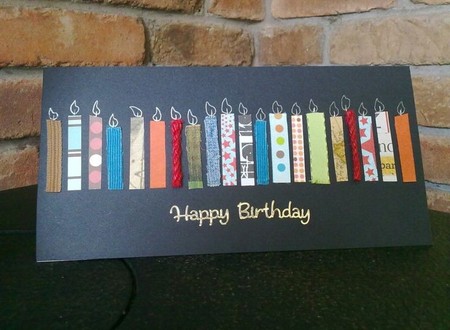 Original black postcard with multi-colored fabric candles. This can be done with the child.
A cute and original postcard made of ordinary buttons! It turned out to be a real man who carries balls of small buttons!
Cute postcard with stars. To make it also neatly better to use a decorative hole punch, although you can also do it manually, the main thing is to try.
Simple DIY card with colored rectangles and small circles.
A fun and simple postcard on craft cardboard with colorful flags.
Another option for decorative stitching on a postcard. Simple and fast.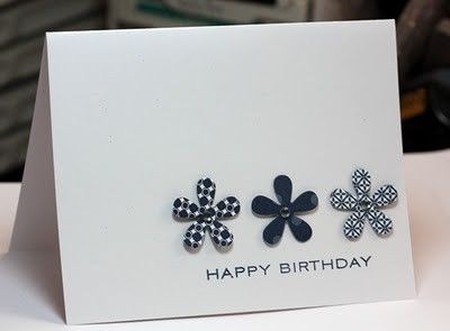 Cute flowers are one of the most popular decorative elements on birthday cards.
Simple birthday card made from scraps of paper. Therefore, never throw anything away!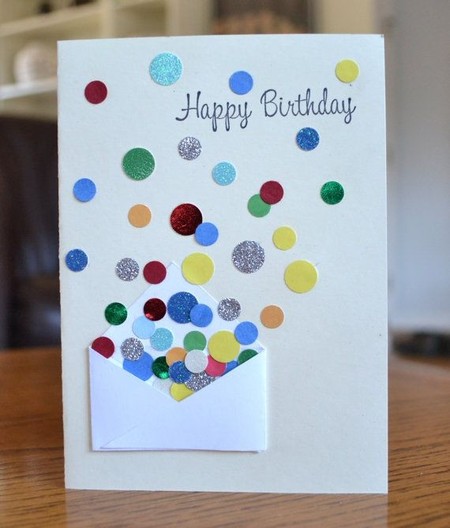 Another cute confetti card. The result was a bright explosion from a small envelope.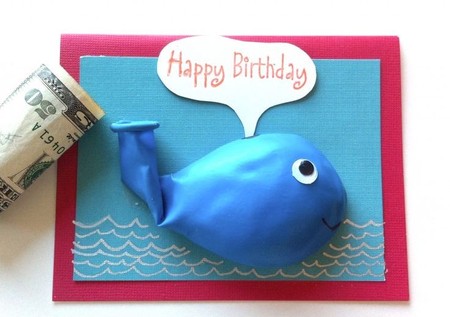 And this postcard is just a miracle. from an ordinary balloon 🙂
Super simple postcard made of colorful circles with a decorative stick. And the decorative stitching is done with a regular pen!
A simple postcard decorated with two shades of flowers.
I love craft cardboard and you can make such a cute postcard from it!
Kraft postcard with small decorative buttons.
And here is a whole set. a postcard envelope in the same style. A lovely sight!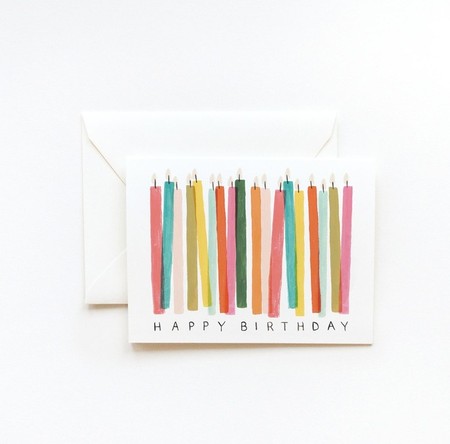 Super simple birthday card with candles.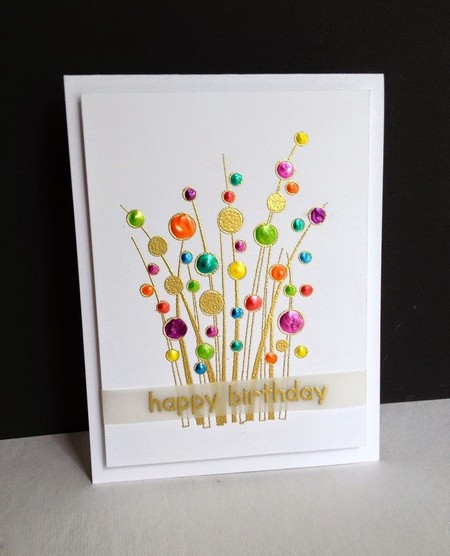 DIY cute flower card.
The postcard is decorated with simple multi-colored circles. Make sure there are not too many of them 🙂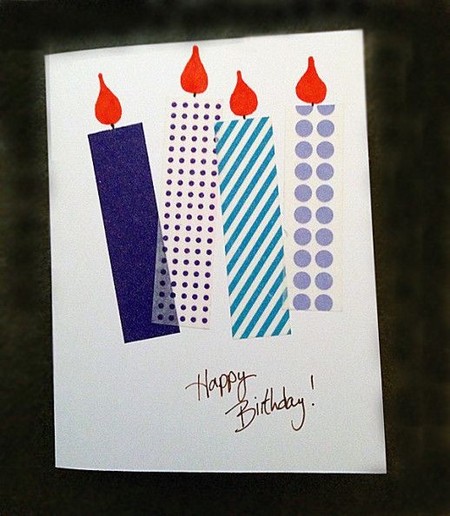 Another original do-it-yourself card, decorated with colored adhesive tape.
Stripes of ribbons of different colors. strict and beautiful.
An airy postcard with craft balloons is very beautiful!
A simple DIY card on craft paper with flags.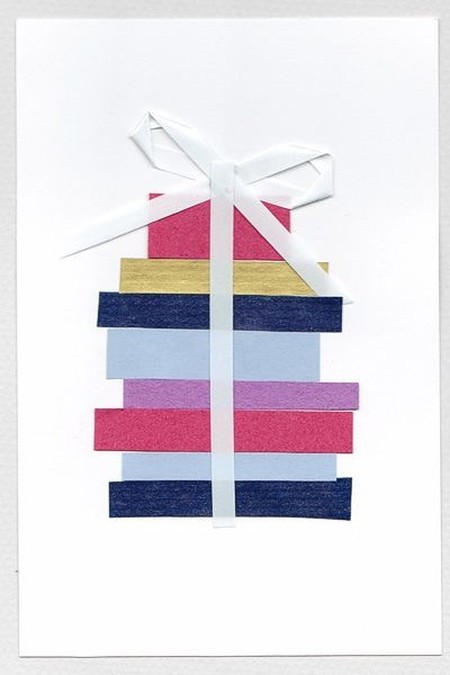 And this is another postcard made of scraps of paper. I love these ideas, they are the most. the most!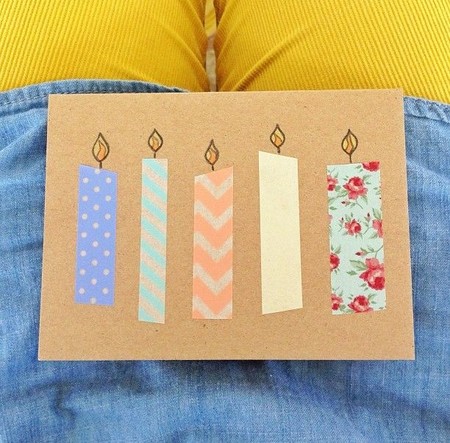 A very simple DIY birthday card from decorative adhesive tape.
You can make a lot of such cute postcards with your own hands at once, in reserve, so that, if necessary, they are at hand.
Cute birthday card with one small and delicate flower.
Simple do-it-yourself card with a butterfly.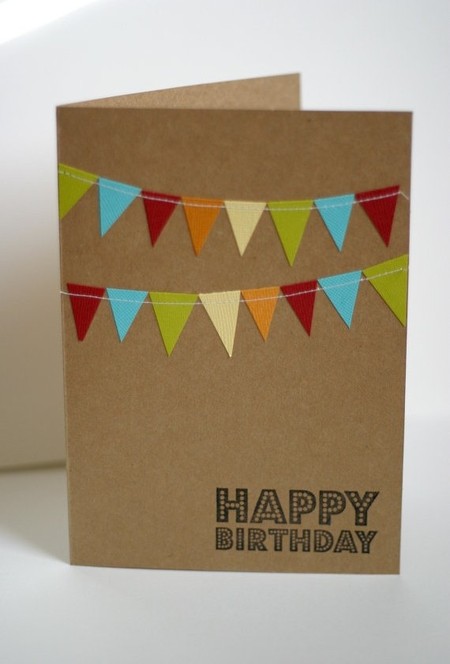 Flags give this card a special festivity.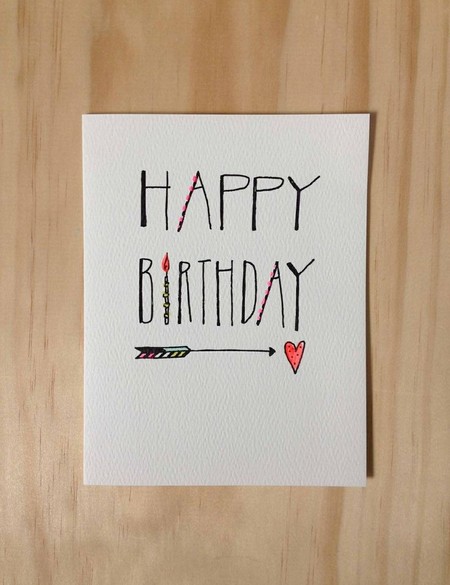 A very simple do-it-yourself card, decorated with a multi-colored inscription.
Flowers are the best birthday present, which is why they are on the postcard!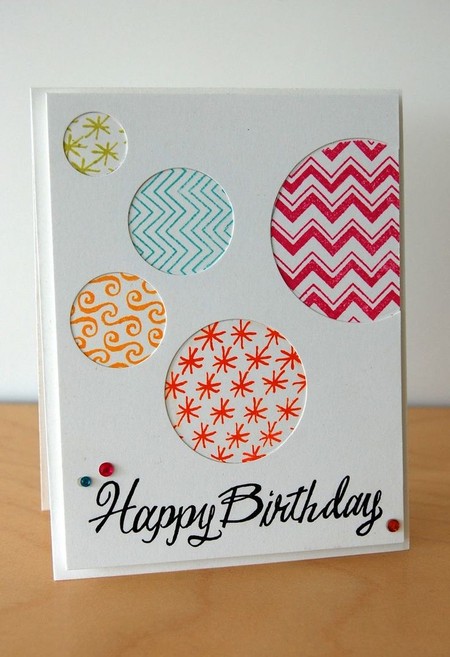 A very simple postcard with colorful circles. light and summer.
DIY greeting card in the form of a gift with a flower. bright and stylish!
Cute caps decorate this original DIY birthday card.
Another simple postcard decorated with confetti.
And this is multi-colored ice cream! You just want to eat it!
DIY volumetric postcards
A do-it-yourself volumetric postcard is a nice gift to your loved one or friend. There are postcards for all occasions, so you can pick up for any holiday the right gift with your own hands.
On our website you will also find:
Make a voluminous postcard with your own hands. An eight-bit heart.
This original volumetric postcard is quite easy to make, despite the fact that its design seems intricate.
It is ideal for a loved one (girl, mother, grandmother) and the occasion can be any: birthday, March 8, or Valentine's Day.
1. First you need to print the postcard template, which is located right here. Just in case there are 2 copies.
You can try to draw a heart layout yourself using a pencil and a ruler, it's not difficult.
2. Use a utility knife to make vertical cuts in your template.
3. Now you need to carefully fold the postcard without wrinkling the details. First, make the folds shown in the picture with yellow lines. Next, begin to gently fold the card.
The rest of the postcard should fold by itself. Do not forget how to iron the card with your fist so that all elements work clearly.
For convenience, you can temporarily attach a postcard to the table with tape.
4. We decorate a voluminous postcard. You can also glue the edges of the card with a different color of paper.
Now almost everything is ready, it remains only to add warm words.
DIY volumetric postcard. A heart.
Despite its simplicity, this card will look beautiful if you do everything correctly. Anyone can make such a Valentine.
1. You will need a postcard template (or you can draw one yourself. look at the picture for how to do it).
2. Cut a card out of white paper.
3. Fold the red paper like an accordion. Next, you need to cut it out.
4. PGlue the resulting hearts to the card.
Done! It remains only to decorate to taste and sign.
DIY volume cards. Scheme. Rainbow.
It is very easy to make such a card even for a kid.
1. Fold the paper in half
2. Draw a rainbow as shown in the picture
3. Make cuts along the top and bottom of the rainbow
4. Unfold the paper and paint the rainbow
You can add whatever your heart desires on the card, decorate it to your liking using stickers, glitter, etc.
Five. Now you need to carefully bend the rainbow out of paper (see the picture)
6. To hide the hole from the cut out rainbow, glue another piece of paper to the back of the card.
When opened, the rainbow should be peeking out, decorating the world that you came up with in your postcard.
How to make a voluminous postcard. Volcano of Hearts.
This postcard has two halves that are glued together.
You can try drawing hearts yourself, but you need to know certain rules. They are listed below.
1. Remove the large heart from the middle (it's right at the fold).
2. Cut out the hearts, leaving only the folds intact (see picture).
3. Make cuts on the hearts shown in the picture (gray lines on opposite hearts), this way you can hold them together.
The card will close better if you cut the paper at the center fold and glue them individually to the base (the base is heavy red paper that serves as the background for the card).
4. Glue the halves to the base and connect the hearts where you cut them.
The sizes of the hearts on both sides are the same.
The blue line in the diagram shows that the distance from the middle fold to the notch is the same, and the red lines indicate the same distance between the hearts close to the middle of the card.
Volume postcards made of paper. Eight-bit freaks.
This card is perfect for both teens and adults.
Postcard size approximately 8.5cm x 6.5cm
1. Download a weirdo or skull template and print it. You can try to draw them yourself.
Volumetric postcard templates
2. Make cuts in the indicated places (see the picture. where the red lines need to make cuts, where the green ones are folds).
3. When you start bending the card, your freak will start "hatch" from paper. Take your time, do everything carefully.
If the shape doesn't come out automatically, try helping yourself with a toothpick, or something similar.
4. Glue the card to some piece of paper to hide the holes and serve as a base for the card.
You can put your postcard in an envelope.
Master Class. Volume postcard "Merry crab"
There are different techniques for making volumetric postcards and this "funny crab" made using one of the simplest.
You will create volume by gluing the main elements of the postcard on bulky tape.
You can replace bulky tape with a piece of foam. To do this, you need to cut out small cubes from the foam. The side of one cube should be a few millimeters long.
Use glue to glue the styrofoam pieces to the postcard first and then to the postcard itself.
1. First, you need to download and print this template. You can also draw the same crab or other cute creature yourself.
Cut out all the main details of the crab from colored and patterned paper.
2. Prepare thick paper.
3. After that you cut out the details of the crab from plain and patterned paper, you need to glue it.
4. Draw your mouth and write any wish.
How to make voluminous postcards. Chick.
This postcard can be prepared for Easter or birthday, or maybe there is another reason.
1. First, we make two blanks for our postcard. The dimensions of one are 15 cm by 12 cm, and the second is 15 cm by 15 cm. It is on the second base that you will fasten the parts. Bend 3 centimeters from the bottom edge of the base (see picture).
2. Step back from the left edge by 3 cm and the same amount from the right and draw strips, the width of which is 1 cm and the length of 3 cm. Cut the lines with a stationery knife. Three such strips need to be made, since we have three parts.
3. You need to bend the strips forward, and you get a kind of stand for the details of the postcard.
4. Glue the main part of the card to the inside as shown in the picture.
You can decorate the card using wrapping paper. You can glue the base with it.
Five. Cut eggs out of thick paper and decorate them. You can use mugs cut from colored paper or made with a stapler, or stickers, glitter.
7. Stick the eggs on the coasters and glue the rest of the parts.
You can decorate your card with feathers and / or glitter.
Volume card for mom
You will pleasantly surprise your mother or grandmother with this beautiful voluminous postcard. It will suit your birthday and March 8, or maybe you yourself will come up with a reason.
1. Cut a stem with leaves out of green paper. Use any other paper color for the flowers.
2. Fold 2 sheets of heavyweight paper in half.
3. Set aside one sheet, and measure 8cm from the edge from the other, and 5cm from the bottom (see picture). Now you need to cut along the solid line and fold along the dotted line. Do the same procedure on the opposite side of the sheet, and bend the resulting steps inward, they will serve as a support for the flowers and create a volume effect.
4. Measure 4cm from the edge of the sheet and 2.5cm from the bottom (see picture). Now bend the steps inward again.
Five. Begin to glue the stems to the steps, and flowers and leaves on top of the stems.
6. Now we need to hide the holes made for the steps. To do this, glue your card to another sheet that you folded at the beginning. It will serve as a cover.
Done! It remains to add the appropriate text.
DIY cards for March 8
Simple postcards can be made with children, which will not only be a good surprise, but also become a useful pastime.
You can also get some cool ideas and details to add to these original International Women's Day cards.
Volumetric card for mom on March 8
A simple postcard that turns into a 3D greeting will be an unexpected gift for your mom, grandmother, sister or girlfriend. While such a card may seem daunting at first glance, making it is easier than it sounds.
Cut 7 squares of 10cm paper in the colors you want. Fold the square in four. Fold one lapel diagonally, flip to the other side, and fold the other lapel diagonally to form a triangle. Cut a petal pattern out of the triangle. Unfold the paper and cut one petal out of the flower. Close the flower by placing petals on each side and holding them together with glue. Repeat with other colors.
Attach a piece of double-sided tape to the petals as indicated by the dots. Connect the flowers to each other: flower B and C overlap petal with A, petal D goes from above, overlapping A.
Attach flower E and F overlapping on B and C.
Attach G on top, overlaid on D. Cut out the leaves from green paper and use double-sided tape to glue to the flowers.
Cut a 25 x 15 cm rectangle from a piece of cardboard and fold in half to make a postcard. Place the folded bunch of flowers inside the card as shown, attach double-sided tape and press firmly. Open the card and repeat, gluing the other side of the bunch of flowers inside the card.
Postcard on March 8: flower pot. DIY children's cards for March 8
This is a great idea for a postcard for March 8, which can be realized with your children.
You will need:
White, green, brown paint
Dip your finger in brown paint and press it against the paper. Draw the stem with a brush.
After the brown paint dries, dip your pinky in white paint and make dandelion fluff. You can also create the effect of flying away fluff, leaving a trail of prints above the flower.
Postcard origami dress for March 8: master class
This card with a dress can be made in various versions, decorated with ribbons, sparkles or rhinestones.
Cut out a square of paper 10 cm in size. From such a square you get a dress with a height of about 7.5 cm. You can use any paper, paper with a pattern on one side and plain color on the other will look nice.
Fold the paper vertically and horizontally.
Then fold the sides towards the center.
Flip the paper over and fold the sides towards the center again.
Turn the paper over again and open the top of the paper.
Fold the top down about 1.2 cm.
Spread out the left side that you folded. This will be the shoulder of the dress. Do the same with the other side.
Fold both sides of the paper inward.
Fold the top layer of paper at an angle to create the bottom of the dress.
Fold the paper in half to connect the indicated points.
Bend back the two halves again, leaving a gap of about 1.2 cm at the top.
Now make the waist. Fold the sides of the floor at an angle as shown in the figure.
Turn over. This is how your dress looks from the front.
When you have finished the dress, you can glue it to the card and decorate as desired.
Here is another origami dress for a postcard.
How to make a postcard for March 8
This simple card can also be made with your baby for mom, sister or grandmother.
Cut out 9 different colored circles (3 circles of the same size). Glue them together as shown in the picture.
Roll the green piece of paper lengthwise to make the stem.
Use duct tape to attach each flower to the stem. Brace the flowers to fit them together in the pocket.
Fold a piece of cardboard or paper in half to make a postcard. Cut a small piece of paper to form a pocket and place the bouquet in it.
Do-it-yourself card bird-mother made of paper for March 8
Such a cute postcard. A great gift for mom.
Print and cut out the details of the bird pattern from colored paper.
Cut out rectangles from white and colored cardboard for the background of the card and glue a piece of colored cardboard onto the white, so that a white edge is formed.
Glue the bird details as indicated on the sample.
To make eyes and socks, cut them out of black and yellow cardboard and glue, or you can draw with a felt-tip pen.